ka timata koe ki
te awhina hokohoko
let's find what you're looking for!
at trade assist, it's all about you
Imagine a company that actually works for you. Well, if we may be so bold, we are that company. At Trade Assist, you come first! Helping you find the right job is just the start, we'll have your back and be right there supporting you along the way.
View our job opportunities
we specialise in more than just trades...
As a construction recruitment agency, Trade Assist specialises in blue-collar recruitment and works with many of New Zealand's leading companies across a range of industries. Our national presence means that no matter where you're looking to work, we'll be able to find you an excellent job and get you started straight away.
Find out about our sectors
providing our team with the experience they deserve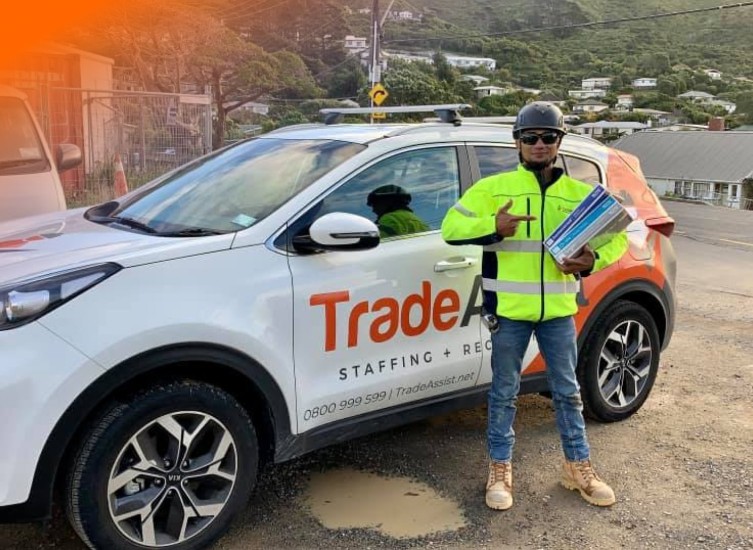 apprenticeship programmes
Looking to up-skill with Trade Assist? After 3 months we will enrol you in our apprenticeship program.

lunch shouts - we've got you!
We know how hard our team works. As a small token of gratitude we recognise your hard work with food!

candidate care like no other
Our overarching goal is to provide safe and rewarding positions for all our candidates.

temp-to-perm focus
At Trade Assist, we have our candidates' careers in mind and proactively up-skill, certify and organise long term opportunities with our key clients.
12 months
$25,000 life insurance after 12 months
We will pay for $25,000 Life Insurance for you (which covers your pre-existing conditions)
24 months
private health insurance cover
We have you covered. You'll automatically qualify for Private Health Insurance (which covers your pre-existing conditions).
personal protective equipment (PPE)
You will receive free Trade Assist branded personal protective equipment! (PPE).
culture of recognition
We like to celebrate our team's success and have company-wide recognition for hard work and commitment.
+ so much more!
Find out more about our benefits
*Terms, conditions and eligibility criteria apply. Check out our terms & conditions for more info.
4.6/5 on Google Reviews
"Such good communication. Always helpful and always there. Love working with them!!"
- Darsh Preet
Read our Google Reviews
Thanks to Rachel for helping me get a job and a career path. Such good communication. Always helpful and always there. Love working with them !!

Darsh Preet

Crazy good place to find work, staff are friendly and professional. A huge thanks to Rachel, she genuinely cares about you when you're under her wing, I highly recommend her for anyone who wishes to apply there.

Jimmy Ngumo

Trade assist is one of the few temping agency's I've been to and they are by far the best. Contacted me a couple days after applying online and had me at their office a couple days later. Found me a great job where im guaranteed 40+ hours a week. Andrew is my temping agent and he is always getting in contact with me to see how I'm doing and making sure things are running smoothly. If you are ever having trouble finding a job Andrew is your guy to see

Brayden Wilson

ready to join the trade assist team?
Search jobs
Popular Searches +
Labour Hire New Zealand
Labour Hire Auckland
Labour Hire Christchurch
Labour Hire Wellington
Construction Jobs Auckland
Construction Jobs Christchurch
Construction Jobs Wellington
Trade Jobs Auckland
Trade Jobs Christchurch
Trade Jobs Wellington
Hide Popular Searches -