kick-start your career
at Trade Assist
let's find what you're looking for!
at trade assist, it's all about you
Imagine a company that actually works for you. Well, if we may be so bold, we are that company. At Trade Assist, you come first! Helping you find the right job is just the start, we'll have your back and be right there supporting you along the way.
View our job opportunities
we specialise in more than just trades...
As a construction recruitment agency, Trade Assist specialises in blue-collar recruitment and works with many of New Zealand's leading companies across a range of industries. Our national presence means that no matter where you're looking to work, we'll be able to find you an excellent job and get you started straight away.
Find out about our sectors
providing our team with the experience they deserve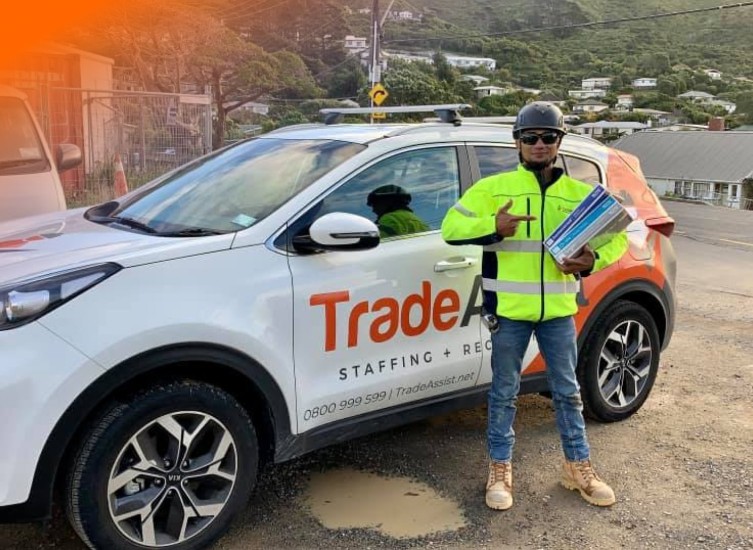 apprenticeship programmes
Looking to up-skill with Trade Assist? After 3 months we will enrol you in our apprenticeship program.

lunch shouts - we've got you!
We know how hard our team works. As a small token of gratitude we recognise your hard work with food!

candidate care like no other
Our overarching goal is to provide safe and rewarding positions for all our candidates.

temp-to-perm focus
At Trade Assist, we have our candidates' careers in mind and proactively up-skill, certify and organise long term opportunities with our key clients.
12 months
$25,000 life insurance after 12 months
We will pay for $25,000 Life Insurance for you (which covers your pre-existing conditions)
24 months
private health insurance cover
We have you covered. You'll automatically qualify for Private Health Insurance (which covers your pre-existing conditions).
personal protective equipment (PPE)
You will receive free Trade Assist branded personal protective equipment! (PPE).
culture of recognition
We like to celebrate our team's success and have company-wide recognition for hard work and commitment.
+ so much more!
Find out more about our benefits
*Terms, conditions and eligibility criteria apply. Check out our terms & conditions for more info.
4.7/5 on Google Reviews (270+ reviews!)
Very good, helpful in the whole process, explained everything and respected days that I am available to work. Best agency I have worked for!
- Darren Hale
Read our Google Reviews
I would recommend trade assist to anyone, Wicked team lovely people!!!!! So helpful as i was coming from nelson, needing a job asap. I really would like to say a very big thank you to Debs Wilkinson at Christchurch Trade Assist you are just amazing!!!! The help you gave me finding me a job I absolutely love! Making sure I was always ok, even outside of work now my son is working along side me too thanks to you just honestly thank you will not be enough debs all the best and we will have to catch up again soon.

Tania Johnson

After having worked with other 'Temp' agencies, I have found Trade Assist to be well ahead in their approach to their staff. Very professional where needed, but at the same time, very personable. Hannah and Bex have been amazing to deal with. Hannah, especially, with her down-to-earth nature. (Almost like that little sister I never had!! Lol.) Highly recommend the team at Trade Assist.

Lance Keen

Awesome company to work for, I am on a big construction site in Auckland CBD and my Trade Assist support from the back office, Peter Sarmiento, is ALWAYS there for me and ALWAYS come thru to enable me to focus on work. Trade Assist is all about Health and Safety and makes sure you have what you need to do your job. As long as you put the effort in and do the work, this is an amazing company to work for.

Scott Hawkins

ready to join the trade assist team?
Search jobs
Popular Searches +
Labour Hire New Zealand
Labour Hire Auckland
Labour Hire Christchurch
Labour Hire Wellington
Construction Jobs Auckland
Construction Jobs Christchurch
Construction Jobs Wellington
Trade Jobs Auckland
Trade Jobs Christchurch
Trade Jobs Wellington
Hide Popular Searches -